Experience Comfort & Convenience: Amenities and Guest Policies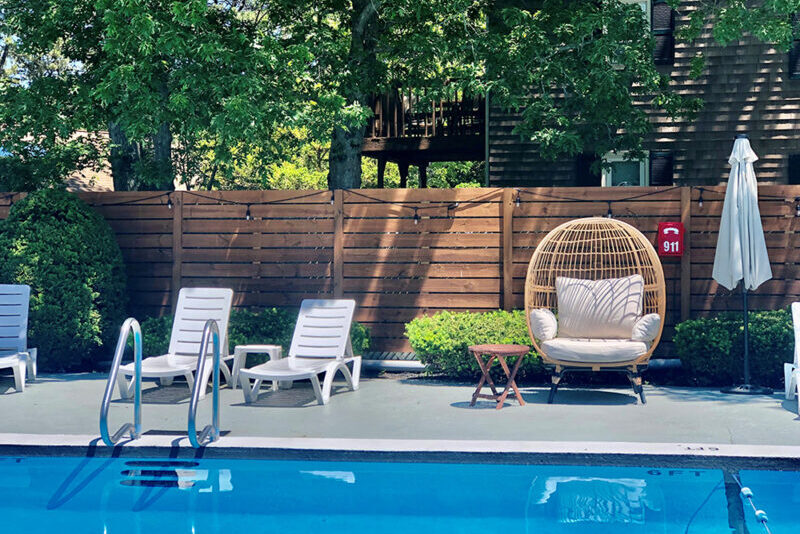 At Ocean Breeze Motel, we believe in providing our guests with a blend of comfort and convenience. Our carefully curated amenities ensure a delightful stay for every guest:
Heated Outdoor Pool: Dive into relaxation in our outdoor pool, maintained at just the right temperature for a refreshing swim regardless of the weather.

Complimentary Wi-Fi: Stay connected with the world or share your Cape Cod memories in real-time with our high-speed Wi-Fi available throughout the property.

Complimentary Guest Parking: We understand the need for convenience. Our guests can take advantage of our complimentary parking, making your trips in and out of the motel hassle-free.

Complimentary Breakfast: Start your day on the right note! Every morning, we serve a continental breakfast, offering a range of delightful options to kick start your Cape Cod adventures.
Your comfort is our priority. Enjoy these amenities and more during your stay at Ocean Breeze Motel.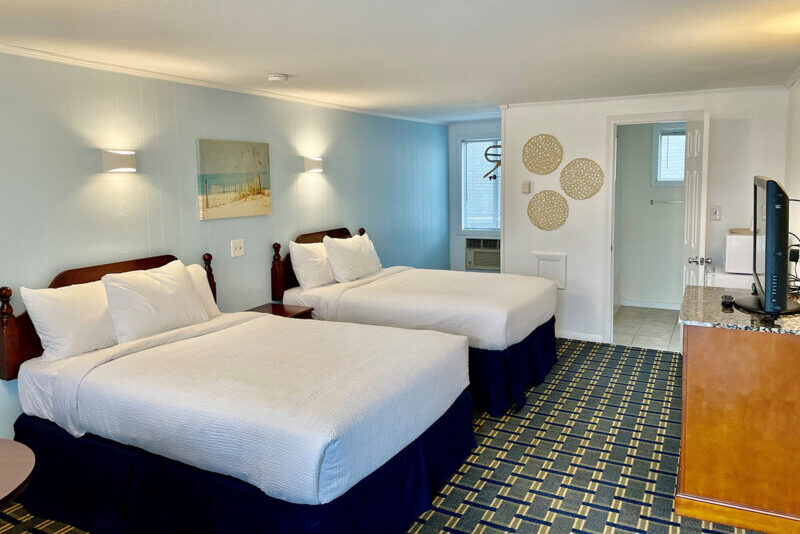 Every room at Ocean Breeze Motel is thoughtfully designed with our guests' utmost comfort in mind. Here's what you can look forward to when you check into our serene haven:
Premium Bedding: Drift into a peaceful slumber with our comfortable and premium quality bedding.

Cable TV: Stay entertained with a variety of channels available at your fingertips.

Alarm Clock Radio: Rise and shine on time with our reliable alarm clock radios.

Kitchen Amenities: Every room is equipped with a convenient refrigerator and microwave, allowing you to store and heat up any snacks or meals.

Climate Control: Tailor the room's temperature to your liking with our individually controlled heat and air conditioner.

Ironing Facilities: Look your best with our in-room iron and ironing board.

Personal Care: Freshen up with ease, thanks to the provided hair dryer and complimentary toiletries.
Experience the perfect blend of home-like comfort and motel convenience with these amenities and more during your stay at Ocean Breeze Motel.
Check-In and Check-Out Times:
Check-In: Starts at 3pm
Check-Out: By 10am
Reservation Policies:
Peak Season Stays: There's a minimum of 2 nights for bookings during the peak summer months of July and August.

Cancellation Window:

For reservations between May 1st to June 22nd and September 5th to October 31st, changes or cancellations must be made at least 3 days prior to the arrival date to avoid fees.
For stays between June 23rd to September 4th, a 7-day prior notice is required for changes or cancellations.

Cancellation Fee: Should you need to cancel outside the allowed window, a fee equivalent to one night's room rate and tax will be charged.
Property Policies:
Pets: We prioritize the comfort and allergies of all our guests; hence pets are not allowed on the property.

Parking: Space is a premium, so we offer parking limited to one car per room.

Smoke-Free: All our rooms are strictly non-smoking for the health and comfort of our guests. A $250 fine will be imposed for any violations.

Rate Fluctuations: Rates may vary based on room availability.
We appreciate your understanding and cooperation with these policies, ensuring a comfortable stay for all our guests.